About, background
Lovemytraining is a project born from the passion for motocross sport and desire to support young athletes in their endeavours to develop into achieved sport professionals.
Lovemytraining has started as an idea in 2013 by two reputable businessmen who, through many years of working experience in motocross industry, have developed deep inside knowledge and passion for sport.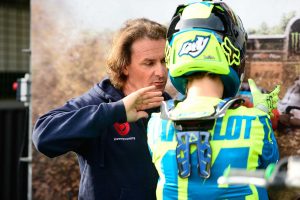 Since the beginning Lovemytraining has supported the development and success of a dozen of athletes. On the basis of the initial success stories and desire to evolve into structured, permanent athlete development program for many young athletes, Lovemytraining Academy for motocross has been established at the beginning of 2017 the main coach, 3 times World MXGP Champion, Yves Demaria.