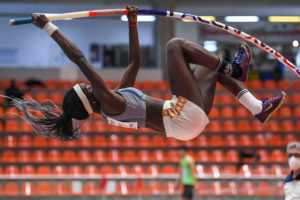 Born 05.09.2004
Great Nnachi, 05/09/2004, born in Torino with Nigerian roots, is a very talented pole vaulter and athlete, currently holding many national records in the Juniores category:
– Pole vault m.4.30 (2022)
– 100m sprint 11.74 seconds (2022)
– 60m sprint 7.42 seconds (2022)
– Long jump 5.91 (2022).
Earlier, Great set a previous record of 3.70 meters, which was initially not recognized by the FIDAL (Italian Federation of Athletics), because she still does not hold an Italian citizenship. Now that she'sm18, she can finally compete and represent Italy at International Events and Championships.
Following our aim is to support young athletes, after having the privilege of meeting with Great and becoming aware of her story, we decided to support her in achieving her dreams and goals. Her most significant ambition is to take part in the 2024 Paris Olympic Games. Great's motto is: ''Without having fun, you will not be able to jump'', which perfectly summarizes her determined yet joyful and spontaneous spirit.