Once again, Team Ship To Cycle Honda SR and Stephen Rubini were challenged by the warm sands of Lommel!
We surely had a warm welcome: the temperature remained above 30C° for the whole weekend, putting a huge toll on Stephen's and the other riders' performance. In addition, our rider had to face a pretty difficult sand track, which is definitely not his cup of tea.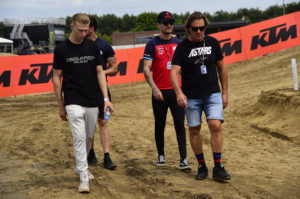 We knew that this stage would be different from the others, but #38 did not give up to the adverse conditions and kept fighting turn after turn, giving his best for the whole GP despite some setbacks: the sand did not play in his favour, letting Stephen finish Race 1 in P9 and Race 2 in P14.
A good performance overall, placing the French rider in the top 10 of this GP and in the World Championship.
Next week we'll be in Uddevalla, Sweden, where our rider Emil Weckman will finally come back on track after a serious injury last year! See you there!