What an incredible day for Great!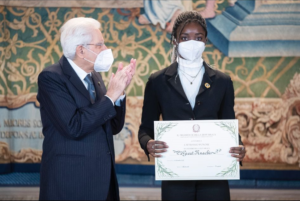 Great Nnachi, our young pole vaulter, was nominated Alfiere della Repubblica, title given to deserving young people who have distinguished themselves as models of citizenship in their studies, in cultural, artistic, sporting activities or have performed acts inspired by civic sense, altruism and solidarity.
Great was awarded for her qualities as an athlete, honed even in the midst of difficulties, and for the willingness she shows in helping her teammates and collaborating in the formation and training of the youngest.
These are the values Lovemytraining cares to transmit with its project, and we couldn't be happier to see Great recognized for the amazing person and athlete she is.
We hope all of this will help her obtain the Italian Citizenship, mandatory to let her represent her country at international competitions.