A rollercoaster of emotions at MXGP of Mantova for Emil Weckman, who finished the season with a consistent performance.
Race 1 was marked by a great start, with #125 staying in the top 5 positions for the entirety of the first lap. Unfortunately, Emil was involved in a few collateral crashes and lost many positions.
Nevertheless, he kept on riding but the bruises on his arm forced him to withdraw and recover for next race.
In race 2, swe saw a fiercer and more confident Weckman: the finnish pilot stood his ground for the whole race, gaining some positions and finishing his last race of the season in P.9.
Overall, a consistent performance for Emil who finished 9th both in race 2 of MXGP of Lombardia and of MXGP of Mantova.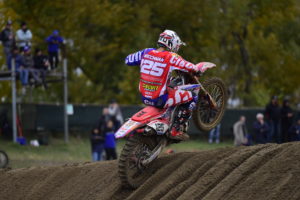 We are expecting great things from the Lovemytraining pilot, who will start competing in MX2 next year.
Enjoy the winter break, Emil! Many challenges await.