Tough race weekend at MXGP of Finland for our rider Stephen Rubini, who had to face not only a difficult track, but also the pain coming from the fall during the previous GP.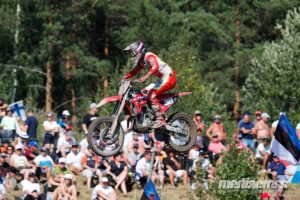 The sands of Hyvinkää were expected as a huge setback for #38, knowing his dislike for sandy tracks, but our rider still gave his best despite the difficulties of a hurting shoulder and a impervious race ground.
Finishing the qualifying race in P12, Stephen set his mindset and grid position not so differently from any other GP: he aimed for the podium and kept racing!
Considering the conditions in which he entered the race, Stephen's performance was not bad: finishing Race 1 in P14 and Race 2 in P12, our rider scores a 13th position in the GP and secures his Top 10 position in the World Championship.
Josse Sallefranque, Team Manager: "A tough weekend for Stephen who still suffers from his crash in Sweden, which was not helpful on a sandy track. He still scores some good points for the championship, and will not give up until the end of season in his fight for the final top eight in the standings. Ben unfortunately hurt his ankle again, he tried to ride on Sunday but the pain was too strong. See you next weekend in St Jean d'Angely, cool to have a second French GP this year."
Next week we will be with Team Ship To Cycle Honda SR in St Jean d'Angely, France, for the 17th stage of the Championship. See you there!