Satisfying results for Stephen Rubini, who leaves Teutschenthal with an 8th place in the GP Classification!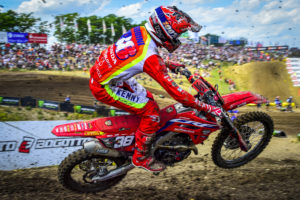 The 11th stage of MXGP 2022 started with a kick: Rubini scores the best time in the free trials and, during the qualifying round, pulls off a great start by getting to the Top Five right away, but unforunately damages the bike's clutch after a few laps, finishing in P14.
Not a problem for the French rider who manages to maintain his focus for the following races, where he achieved 8th place in both, ending the GP in P8 and consolidating his position in the Top 10 of the World Championship. Another good GP for Team Ship To Cycle Honda SR, which is now preparing for the next GP of Indonesia in two weeks.
Josse Sallefranque, Team Manager: "Once more Stephen was in the pace this weekend in Germany, with good speed, good rhythm and top sixth results in the practice session. In the first race he was in a group of riders looking for a top six results when he crashed with another rider and lost time. At the start of the second race he wanted to anticipate the start too much and hit the gate; he was last and came back eight, and scores twice good points for the Championship".