Mixed emotions for the Lovemytraining Team during the first 2 rounds here in Arco di Trento during the last weekend and Wednesday. 
Excellent first race day for Emil Weckman at the EMX250 here in Pietramurata. Starting from the free practice Emil felt comfortable and good on the hard pack track in Arco di Trento. During the first race he managed to finish on P.9.  In the second race of the day Emil did an incredible job, he got a flawless start and managed to finish the race on P.2
Thanks to these two outstanding results Emil Weckman finished the GP in fifth place, just 2 points off the podium.
Well done Emil!!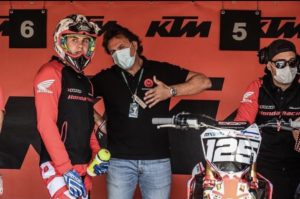 Bad luck for Stephen Rubini:
During race one on Wednesday he crashed with another rider, the crash caused him a broken scapula. He will not be able to finish the season.
Get well soon Stephen!