We are happy to announce that the partnership between our rider Stephen Rubini and Team Ship To Cycle Honda SR will go on during the next season of MXGP in 2023, where #38 will finally switch to the 450!
Having celebrated his 23rd birthday earlier this year, Stephen Rubini will no longer be able to compete in this category next year at the World level and it is therefore in 450 that we will see him racing again in a few months. Author of an excellent season as he placed his Honda in the top 10 of the World MX2 – the only 250 CRF in the top 15 World – Stephen has fully achieved the goals set jointly with Josse Sallefranque and his trainer Yves Demaria, and from then it seemed logical to continue this association.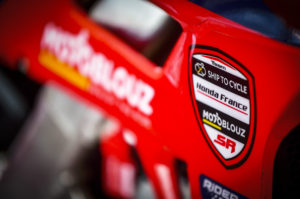 Stephen Rubini: "Switching to 450 is an important step in a career and I wanted to do this in good conditions. My goal was to continue to work with Yves (Demaria) because I was able to see that I was progressing a lot with him, and to evolve in a structure allowing me do this move well; it was therefore important to know where I was putting my foots, and the Ship To Cycle Honda SR Motoblouz team was for me the ideal structure for that. I'm super happy to stay another year with them, as everything has gone well this season".
Josse Sallefranque, Team Manager: "Glad to continue working with Stephen with whom we had a great season, slightly exceeding our initial goals with him since he is well established in the top 10 of MX2, with some great races including a podium at Maggiora. The goal next year is to compete for the Elite MX1 title, and to have an adapted program in MXGP where the level is very high; we see a lot of young riders embarking on the World Championship without necessarily being successful. With Yves and Stephen, we preferred to go step by step, and develop this program according to its progress and its results."
2022 has been a satisfying year full of challenges, achievements and commitment, and we cannot wait to face Season 2023 with Josse and his amazing crew! Go team!