There is nothing better to see months of training, commitment and sweat lead to the first of many achievements waiting ahead!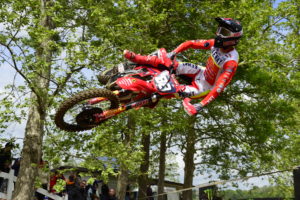 A great race weekend at MXGP of Italy for Lovemytraining and Team Ship To Cycle Honda SR, which assisted to one of the best performance by MX2 rider Stephen Rubini so far:
Qualified in thirteenth position, #38 started Race 1 by getting across a multiple crash at the first turn, placing third and then second behind the leader of the Championship! During most of the race he kept a good rhythm and fought just three seconds behind but finished in P2.
Startin Race 2, he always battles inside the top ten to finish this moto in P6 for third overall. His first ever GP podium! Stephen remains 10th in the World Championship Classification, obtaining enough points to secure his position in Top 10.
Josse Sallefranque, Team Manager: "Of course the whole team is very happy. We always knew that Stephen was able to do it, but actually seeing him succed was great, especially being this the second podium for the team o in the World Championship. He was strong and consistent and started to spread his name among the best of his category,  A truly well deserved result as we are a small team competing against the big ones".
We are proud and grateful for this new achievement, a milestone shared by the rider, the trainer, the Team and our academy.
Helping athletes in their path to becoming sport professionals is our goal.
Next weekend Lovemytraining will be at the next stage of Sardinia with Stephen and Team Ship To Cycle and we cannot wait to see another great performance by the french rider.