It's been a while since we saw both our riders race side by side and it finally happened at MXGP of Charente Maritime!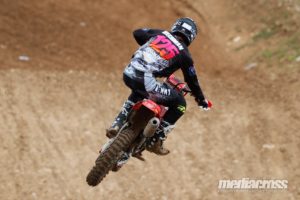 After a long recovery period, Finnish rider Emil Weckman made his return to the 2022 Championship, ready to show everybody he still has the grit in him! Jumped back on his bike, #125 joined Stephen Rubini at the starting grid and got ready to race.
The race weekend started on the right foot, with the two riders finishing the warm-up race in the Top 15: a good start indeed, especially for Emil who hadn't face the MX2 competition in a while.
Different outcome in the qualifying race, where both Weckman and Rubini struggled to place respectively 18th and 14th.
Going to the second day of the GP, Team Ship To Cycle Honda SR and its riders went through a more difficult situation: Weckman fell off during Race 1, ending in P15, while Rubini finished in P8.
Due to a severe stomach pain, #38 could not partecipate in the second race, but #125 carried the Team's flag taking home a 16th place.
Josse Sallefranque, Team Manager: "A weekend with up and down, as Stephen alternated between very good and less good results over the sessions, with excellent lap times in the practice sessions and a first race spoiled by an average start. He moved up to eighth with violent stomach cramps at the end of the race, which prevented him from taking part in the second race while waiting for in-depth examinations. Emil's return was conclusive, we knew it would be physically difficult after five months without riding a bike, but he showed us some good things and by Turkey he will have made further progress. »
Performance-wise, St Jean d'Angely was not a remakable GP, but we are happy to see the full team competing together once again!
We will be at MXGP of Turkey in 2 weeks, marking the end of this amazing season! See you there!